Selling Your Home This Halloween Season
And so it begins with Halloween–the holiday season when home decorations, both outdoor and indoor–dominate the real estate landscape. If you home is on the market now, you can still bring out the decorations, but not without knowing a few things!

Curb appeal is the first step to entice buyers through the front door. First impressions alone can sell your home. They can either be excited to go inside, or feel disappointed that it could be a waste of time. Be prepared to make the most of your curb appeal by toning down the decorations, especially for Halloween, so that potential buyers can actually see your home. Remember, those little goblins and ghosts are usually accompanied by parents who just might be in the home buying frame of mind! Here are some helpful tips.

Safety first. Always. Keep the walk in front of and to your home clean and debris-free. This includes all those electrical cords for plug in pumpkins & lights. Make sure the walkway is well lighted to avoid accidents. This Halloween, go more for the fall look with pumpkins and flowers rather than a collection of screeching bats, frantic witches, and lose that yellow caution tape. You're selling a home, not a disaster site. And, no towering, spooky inflatable lawn ornaments. Please.
You've had all of your windows washed, right? Let the light in, especially this time of year when the days get shorter. This year, avoid taping paper decorations to your windows. Turn the lights on and create a warm autumn atmosphere inside your living room. This cozy tableau will help buyers see themselves sitting by the fire.
Decorations do not linger. The day after Halloween, take down all decorations. It's back to staging the best curb appeal possible. Sellers who leave decorations up long after the "sell by" date can be perceived as not caring much for their property.
Create a day after plan: The decorations come down & go back to storage, check your property for trash, trampled flowers and stray candy. Freshen your landscape again–trim bushes, rake leaves, wash the driveway and add a beautiful autumn wreath on your front door.
Even though you may be known in your neighborhood for the biggest, spookiest, rockin' Halloween decorations, keep in mind you can do that all over again next year in your new home. This year is all about attracting buyers.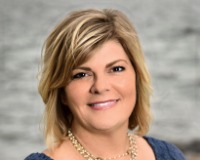 Author:
Tracy Boulanger
Phone:
936-718-8766
Dated:
October 14th 2015
Views:
1,497
About Tracy: Moving. It's about much more than finding a home. Buying & selling real estate is likely not only...