Lifestyle Choices Affect Bottom Line
When it comes to eventually moving into that dream home you've always wanted, keep in mind that many of the choices we make on a house are really driven by lifestyle desires, rather than lifestyle needs. More bedrooms means more time to clean, more expensive to repaint and carpet/floor in the future. The bigger the house and the larger the lot, the more you're going to pay for it both in time and financial resources. The main three decision factors are larger lot, more space and more stuff. Each of these comes with a price tag.
Larger lot
Depending on the acreage, this is going to cost the owner in regards to acquisition, monthly payment, and upkeep. First is the acquisition. Larger lot means larger price, thus larger down payment and monthly payment. In metropolitan areas, the closer in to the epicenter of town, the more the extra space is going to cost you. If you decide to get it cheaper by moving out of town, then you'll be paying more for gas and be losing the ever elusive minutes of your life. The larger lot also means more upkeep. Nevertheless, the larger lot that is cleared off and landscaped will take longer to mow, require more gas and possibly even more equipment. In addition, there's the landscaping that you may not have needed to fret about before.
More space
For most move up buyers, this is the No. 1 reason they are shopping for a home. More space creates more expenses for paint, accessories, flooring, etc., every time the room is repainted, remodeled, etc. It's no rocket science calculation to see that the 1,800 square foot home is going to be cheaper to care for than the 2,800 square foot home. Remember, percentage wise, we're talking 55 percent more home – which will interpret into 55 percent more flooring cost, 55 percent more paint, 55 percent more utilities, etc. When purchasing, don't forget to ask the owner for a rundown of monthly or annual expenses for upkeep of the property. (Most likely, it will be an estimate, but a good indicator of your true costs of the property.)
More stuff
Don't forget that once you get a larger place, it usually is compounded with a decision to replace older furnishings or purchase new furnishings to put into your new areas.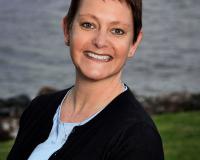 Author:
Brandi Banks
Phone:
281-682-6069
Dated:
August 27th 2013
Views:
1,119
About Brandi: Whether you are buying or selling, Brandi understands the process can often be challenging and compl...