Fall Home Maintenance
Now that summer is drawing to a close, it's time to think about getting your home in shape for the upcoming fall and winter. Below are 10 tips on maintenance items you can complete to protect your home from what's coming; whether it's cold, rain, wind or snow, or all of the above.

1. Heating system checkup. Give your furnace a test-run, and make sure it's working properly. Also, change the air filter and check the air ducts and make sure they are free of dust.
2. Check your chimney and fireplace. Sweep out your fireplace, and consider calling a chimney sweep to inspect and/or clean your chimney. Be prepared with information on how often you use the fireplace, and what you typically burn for fuel to determine the desired frequency for cleaning and inspection.
3. Clean your rain gutters. If gutters are clogged and dirty, rain or melted snow can over-flow them, potentially damaging the foundation of your home. A properly maintained and designed drainage system should direct water away from the foundation.
4. Check windows and doors for drafts. Replace weather stripping or caulking if needed, and check for leaks. The interior of the window seal may actually appear decayed, a good sign that you may have a window framing or door framing leak.
5. Test and replace the batteries in your smoke and carbon dioxide detectors and keep extra batteries on hand. 6. Clean and store seasonal outdoor furniture. If you have pool or outdoor patio furniture that you typically do not use during the winter, clean and store it in a dry place to protect it from damage from the elements. Then your furniture will be ready to use when spring rolls around!
7. Before the cold weather hits you should take the time to inspect all the plumbing, and any wet area in or around your home for signs of leaks. Check all hot water heaters, toilets, dishwashers, washing machine connections, outdoor faucets, showers and tubs for any obvious signs of problems. Water is the leading cause of most damage in a home!
8. Reverse your ceiling fans. Some fans have a reverse switch, which changes the direction of the fan to clockwise, blowing air up to the ceiling, and helping to circulate hot air (which rises to the ceiling) throughout the room, distributing the heat more evenly and potentially saving money on your heating bill.
9. Inspect and repair your roof. Fix any loose, missing or broken shingles, and check flashing around the chimney and vents. Spending a relatively small amount now can save big money later by preventing damage-causing leaks during winter storms.
10. Mulch your leaves. Instead of raking, use a mulching blade on your mower - without the bag - to chop dry leaves into small pieces, which fall among the blades of grass and provide nourishment for your lawn when they decompose.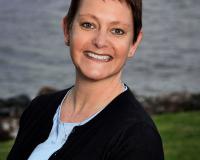 Author:
Brandi Banks
Phone:
281-682-6069
Dated:
October 10th 2013
Views:
2,102
About Brandi: Whether you are buying or selling, Brandi understands the process can often be challenging and compl...