Diy Shiplap Walls
Love classic shiplap walls?? This awesome tutorial shows how easy it can be to install DIY shiplap using budget-friendly plywood…
Diy shiplap Supplies
4'x8'x1/4″ plywood underlayment, ripped down to 8″ planks

3″x1/4″x4′ poplar "hobby boards", aka battens

Sanderwith medium grit paper

Stud Finder

Nail Gun with brad nails

Printable speckle/wood filler

Miter Saw, Table Saw, Circular Saw or Jigsaw

Speed Square and pencil

Primer

Paint

Coins as spacers

Painting supplies (tarp, brushes, etc.)
How To Install
Make sure the underlaymet is super smooth it will make your job much easier. Marked the studs, and fired up the nail gun, tape a few pennies for spacers (two thick), leveled up the first board at the ceiling, then start nailin' them up. Staggered your planks randomly, trying to use as many whole-length boards as you can. Then mark where you need to cut the smaller pieces, cut them outside, sand the edges, then nailed them up. If needed mark on your board where any outlets are and then trim them out using the jigsaw.
*Panel PSA: having the panels ripped down into 8″ sections will make the last panel slightly less than 8″ wide due to the width of the saw during the cuts. These are fine for the bottom row, but make sure you don't accidentally use one anywhere else on the wall . If you have a table saw, you can easily rip those shorter planks down to whatever width you need them to be for the bottom row. Your bottom pieces may end up a little smaller.

Once all of the boards are up it's now time to start spackling, sanding, and priming. Only fill in the nail holes, not the knots or the seams in between. Once you are done spackling all of the wholes come back with the sander and sand all the spackling down smooth. Now it's time to primer.Use your favorite 1" brush for the cracks and 4" brush for the face of the boards. Use brushes instead of a roller so that you can keep a classic, traditional finish.

Kristina Davidson
936-672-2626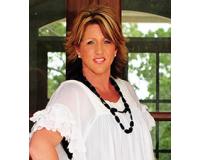 Author:
Kristina Davidson
Phone:
936-672-2626
Dated:
September 12th 2016
Views:
289
About Kristina: A thirst for challenge, a perpetual desire for growth, an investment in life-long learning and a com...