Be Thankful And Make Someone Feel Special
With Thanksgiving right around the corner, the latest thing on Facebook is to make a daily post for the things that we are thankful for. Although I like this idea, I feel that we should be grateful everyday for the blessings and people in our lives, not just one month out of the year. So, I challenged my family for us to name one thing every morning that we are thankful for in order to start our days out with a positive attitude. Being that today was the first day of our thankful morning thoughts, lets just say that we need to dig a little deeper since the only thing my kids could find to be thankful for this morning were their pets! So, I challenge all of you to start your days out with a positive attitude by thinking of one thing that you are thankful for, and let's not forget to say thank you for the people in our lives that we are grateful for! Here's some ideas on how you can say thank you and make someone special feel good.....
* write them a note
* surprise them with a gift or a meal
* pass on compliments to them
* call for no reason but to say hi
* recognize their new anything; hair, clothing, etc.
* pay it forward
* make time for those you care about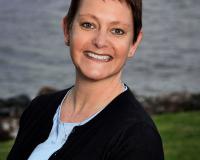 Author:
Brandi Banks
Phone:
281-682-6069
Dated:
November 2nd 2012
Views:
1,844
About Brandi: Whether you are buying or selling, Brandi understands the process can often be challenging and compl...