Bathroom Remodels Add Value
Now, more than ever, homeowners are adding to the value and comfort of their homes by renovating bathrooms into private retreats with luxurious touches that rival those of an upscale spa or resort. When considering an update for your bathroom, whether you choose to do an extensive remodel or a smaller project, most kitchen and bath designers agree on these tips: Consider the size of the bathroom. If you have a small room, look for ways to make it feel more expansive. A sleek, stylish glass shower enclosure helps your bathroom appear more spacious, and in most instances, a frameless shower enclosure will provide the cleanest, most open look. If you decide to go with a framed shower enclosure, you'll have two choices: frameless sliding doors or framed doors. For framed doors, be sure the finish of the metal framing and handles matches your bathroom fixtures. Think outside the box. Taking a creative approach to bathroom necessities can help you make the most of your space. For instance, the majority of shower enclosures are square or rectangular, but today's designers encourage you to think about other shapes. Don't be afraid to consider a circular or oval-shaped enclosure, a triangle or even a standard shape with an artfully bowed glass door, which can redefine the space and make your bathroom more versatile. Brighten things up. Repainting your bathroom with light colors can make it feel more spacious. If your bathroom has windows or skylights, use window treatments and accents that maximize the amount of light that comes through to give the room a more airy feel. Find the best use for your space. Move bathroom cleaning items to a hall closet if you are stretched for storage space in your bathroom, especially if you have freestanding storage units that are taking up valuable floor space. If you need more storage space, consider adding built-in compartments if possible between your wall studs to maximize useable space. It's been shown time and time again that remodeling a bathroom can add to a home's value. Whether you want to sell or just enjoy your home more, it's one of the most practical and dramatic ways to make your home more appealing.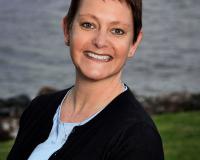 Author:
Brandi Banks
Phone:
281-682-6069
Dated:
July 16th 2012
Views:
2,422
About Brandi: Whether you are buying or selling, Brandi understands the process can often be challenging and compl...