10 Ways To Make The Switch From Summer To School
1. Restart Routines. Kids need time to adjust, so provide a head start. About two weeks before school starts, make bedtime earlier and dust off the alarm clock. Aim to serve meals at approximately the same times your child will be eating throughout the school year.
2. Go Over Ground Rules. Decide when and where homework will be done. Be sure to cover tricky topics such as TV time, how late can friends visit on a school night, what about chores? Establishing guidelines and going over them together will make sure you're on the same page once school's in session.
3. De-Stress Dressing. Let your child choose special first-day clothes. To avoid arguing over school-appropriate clothes and to save time in the mornings, have your child select their outfit for the next day and lay out the night before.
4. Develop a Game Plan — Together. Discuss goals for the upcoming year, triumphs from the year before, and establish skills your child would like to improve.
5. Keep Passions in Play. If your child became a painting Picasso at summer camp or a diving champ at the local pool, keep it going. Integrate new summer hobbies into the school year by finding after-school clubs or groups that will let your child continue to do the cool new things they tried this summer!
6. Summon the Learning Spirit. Assign creative "homework" as summer wanes: Ask your child to write a short paper about their summer adventures: what activities did they participate in, which were their favorite, where did they go on vacation, what did they learn this summer?
7. Take a Family Trip. Plan one last family trip to celebrate the end of summer. You don't have to go far or spend a lot of money. Visit the beach for the day and build sandcastles or hunt seashells together. Camping is also a great way to spend quality time together without the distraction of TV or video games. Exploring nature is a fun way for them to learn without your child even knowing they are learning!
8. Set Up a Homework Area. Create a quiet, well-lit space for study. Prevent first day freak-outs by hauling out the necessities: backpack, dictionary, atlas, calculator, art supplies, paper, and pencils. Make it personal and fun, but free from distractions.
9. Sharpen Skills. Add more factual brain-bending activities into the everyday mix. Sudoku games, crossword puzzles, word searches, and trivia all encourage your child to sit still, focus, and complete a task from start to finish.
10. Go for a Test Run. Take a trip to school, and get familiar with the new classroom. Make sure to find the cafeteria, gym, nurse's office, and library. Don't forget about bathrooms! It's also a good time to size up cubbies and try out lockers.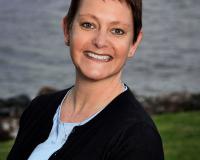 Author:
Brandi Banks
Phone:
281-682-6069
Dated:
August 27th 2013
Views:
1,805
About Brandi: Whether you are buying or selling, Brandi understands the process can often be challenging and compl...