Tips To Save Money Time And Energy On Laundry
Even with modern technology, laundry is a bear: There's the sorting. The loading and unloading. The ironing, and the folding. All these loads take loads of time and resources.

We're here to make laundry day faster, more energy efficient, and easier on your clothes.
1. Use cold water.

About 90% of the energy your washer consumes while running a load is used to heat the water. Opting for cold can save as much as $40 to $60 per year.

Today's detergents do their job perfectly well in cold water. Cold is even best for stains like blood and eggs, which can set in hot water. Even if you need to use hot water, such as to get rid of dust mites in bed linens, use cold for the rinse cycle.

2. Use detergent sparingly.

A surprisingly small amount of detergent gets fabrics clean. Overdosing on detergent makes clothes hard to rinse, and once dry, fabrics feel stiff and can actually attract dirt. Also avoid using too much chlorine bleach, which can eat away clothing fibers. Bottom-line: Using less detergent means more savings. Skip commercial detergents altogether and try these recipes for inexpensive homemade detergent.

3. Wash full loads.

Tempting as it might be to do your laundry in small bits, it's more energy efficient (and economical) to wash full loads. One source estimates that doing one large load saves 25% to 50% of the energy of doing several partial loads. That's because small loads don't really use that much less energy and water than a big one.

4. Don't over-dry.

Fabrics don't last as long if they're repeatedly over-dried. Use the permanent-press option — which brings in cool air toward the end of the dryer cycle — and/or the moisture sensor — which stops the cycle when clothes are still somewhat moist — to reduce wrinkling. By avoiding unnecessary drying, you'll also save energy. Even better, air dry to avoid the dryer altogether.

5. Put clothes away promptly.

Removing clothing from the dryer and folding it as soon as it's dry helps prevent wrinkles — sometimes to the point where you don't need to iron. And that saves even more energy and time.

Bonus tip: Invest in a home warranty, such as one from American Home Shield which protects you from paying the retail cost for repairs and replacements when your appliances or home systems break down. A warranty also provides access to a network of professional service contractors.

If you're buying a home, see if the sellers will purchase a one-year warranty for you. After all, the last thing you want to deal with when you first move in is an appliance on the fritz.

Source: Houselogic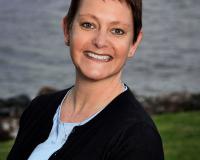 Author:
Brandi Banks
Phone:
281-682-6069
Dated:
September 24th 2014
Views:
721
About Brandi: Whether you are buying or selling, Brandi understands the process can often be challenging and compl...